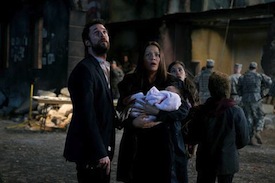 In the somewhat non surprising news front, we can inform that TNT renewed Falling Skies for season fourth. The order consists of ten more episodes.
TNT has ordered a fourth season of Falling Skies, the epic drama produced by DreamWorks Television and executive producer Steven Spielberg and starring Noah Wyle. Currently airing Sundays at 10 p.m. (ET/PT), Falling Skies is averaging 5.8 million viewers in Live + 7 delivery and ranks as basic cable's #1 scripted series with adults 18-49 and adults 25-54 for the summer-to-date. TNT plans to launch the 10-episode fourth season in summer 2014.
Falling Skies tells the extraordinary tale of life and survival in the wake of a catastrophic alien invasion. Wyle plays Tom Mason, a college professor who becomes an unlikely resistance leader after a massive invasion by an alien force. The series also stars Moon Bloodgood, Will Patton, Drew Roy, Connor Jessup, Maxim Knight, Seychelle Gabriel, Mpho Koaho, Colin Cunningham and Sarah Carter. Among the guest stars this season on Falling Skies are Gloria Reuben, Robert Sean Leonard, Stephen Collins and Doug Jones.
Falling Skies premiered in summer 2011 and ranked as basic cable's #1 new series of the year. The series returned with strong numbers last year, averaging 5.6 million viewers in Live + 7 and ranking as basic cable's #1 summer drama with adults 25-54.
What do you think? Are you happy Falling Skies got renewed? Follow me on Twitter for more scoop on shows getting renewed like Falling Skies, or check the complete and updatable lists of renewed shows of 2013 and cancelled shows of 2013.
Comments
comments