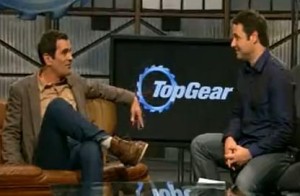 On Sunday, December 5th at 10/9c, History Channel is bringing a new episode of the US version of the international hit Top Gear to the US!  Featuring super-cars, extreme stunts and challenges, car reviews and celebrity interviews.
You can participate in our Top Gear US Contest and Giveaway. Remember that too.
You won´t see makeovers, you won´t find anyone named Snooki, but if you love cars, you´re in the right place.
The challenge of the day, Rutledge, Adam and Tanner had 1,000 dollars and they had to find the best car available for that money and after a set of challenges, they´ll know who got the best deal.
Rutledge got a 1987 Ford Thunderbird Turbo.
Tanner got a 1987 Nissan 300ZX.
Adam got a 1976 Cadillac Coup de Ville.
Top Gear quote of the day
Tanner: Big news, Rutledge is a big wuss.
Adam: That´s no news for us
They show a study about the most and least likely cars to get a ticket.
The three play a little on what Buick slogan should be:
Adam: Buick, how´s your hip?
Tanner: Buick. Your turn signal´s on
Rutledge: "Buick: It works for Tiger Woods"
The car of the episode is Mustang VOS 302. Looks quite nice!
Funniest man on earth Ty Burrell is the interview of the day and tries his best on the race track too.
And that´s all I can give you as spoilers for Top Gear Season Episode 103, you´ll have to watch it. It´s really worth it.
Are you going to watch Top Gear US Episode 103 on History, December 5th?
Let me know in the comments section. Also, remember to follow me on Twitter for more Top Gear US scoop and spoilers.
Comments
comments