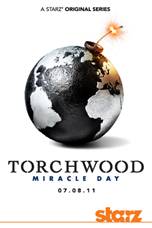 Starz surely seems lately like a network that cannot make a mistake… With both Spartacus franchises and Camelot as the battle horses, now it´s time for the adaptation of BBC´s cult hit Torchwood to premiere on Starz.
The series, featuring Bill Pullman and Mekhi Phifer as well as John Barrowman and Eve Myles (stars of the original BBC cult favorite), begins with a day when nobody dies. All across the world, nobody dies. And then the next day, and the next, and the next, people keep aging, they get hurt and sick, but they never die. The result: a population boom, overnight. With all the extra people, resources are finite. It's said that in four month's time, the human race will cease to be viable. But this can't be a natural event – someone's got to be behind it. It's a race against time as C.I.A. agent Rex Matheson (Phifer) investigates a global conspiracy.  The answers lie within an old, secret British institute. As Rex keeps asking "What is Torchwood?," he's drawn into a world of adventure, and a threat to change what it means to be human, forever.
Torchwood Video Teaser Spoiler Unveiled here at YouTube
Will you watch Torchwood: Miracle Day on Starz Friday, July 8 at 10pm ET/PT?
Let me know in the comments section.
Also, remember to follow me on Twitter for more Torchwood scoop and spoilers.
Comments
comments