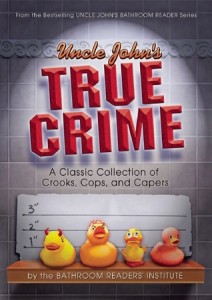 This is a book from the same series as Impossible Questions, and the series has been one of my best discoveries from last years Book Expo America. The Uncle John´s Bathroom Readers Institute books. It´s a long time running collection, of nearly twenty years, but I just found them last year in New York City, and they have become instant favorites of mine because of their ease to read and because they deliver on their mission of creating good books to read in the John. The stories told are always about trivia, conversational starters and things that make you go "Huh, who would´ve thought!" Its pocket format makes it easier to be kept in the toilet from one visit to the throne until the next one.
In the case of True Crime, it was my favorite of the books in the series I´ve read so far as it is rapidly read (one week if you have eaten all your veggies, :P) and tells the stories of crooks, cops and capers ranging from the most notorious to the dumbest ones. At times you delve into well known stories to learn some more details you may not already know, and sometimes you read about the infinite stupidity of humans, by knowing some of the most underwhelming criminal minds ever.
It´s definitely a book worth reading, even though it will never become your go to book and favorite ever, but it´s a great idea for a gift or to spend some bucks for a good read.
Book Info
Full Title: Uncle John´s True Crime A Classic Collection of Crooks, Cops and Capers
Publisher: Portable Press; 1 edition (November 15, 2011)
Language: English
ISBN-10: 1607103184
ISBN-13: 978-1607103189
How to buy it? Visit this Amazon link.
Have you read this book? Follow me on Twitter for more book reviews.
Comments
comments