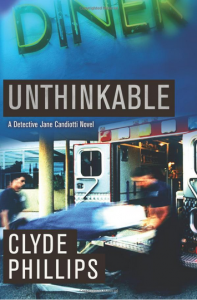 I´m luckily on a roll. I just finished On These Courts by Wayne Drash, a book that deserved five stars and went on to read Unthinkable by Clyde Phillips next. Another five stars book. Two in a row, baby! Not a lot of these I´ve reviewed so far, as it is actually only the fifth review in this site that I give five stars to, including How Life Imitates Chess and Cannibal Serial Killers.
I have to admit though, it kinda feels like I cheated, since by knowing about the author I could certainly expect a good outcome; after all, Clyde Phillips is not only a great writer, but he was also the EP and Showrunner of Dexter´s first four seasons, the EP of Nurse Jackie and the creator of Parker Lewis Can´t Lose. I mean, freakin´Parker Lewis! That was my favorite show when I left kids shows for teens shows in the early nineties.
But now, onto the book. It is a book in the Detective Jane Candiotti series, that started with Fall From Grace and follows Lieutenant Jane Candiotti as she is solving crimes in the San Francisco Police Department.
The official description of UNTHINKABLE reads that the book "finds the hard-nosed San Francisco detective facing her toughest case yet: a mass murder that claims the life of a member of her own family. On a blustery San Francisco day, six strangers find shelter inside a neighborhood restaurant—only to be massacred minutes later in a horrific shooting that appears to be random. The carnage of the scene leaves the entire city on edge, and police struggling to find the perpetrator".
But, let´s face it, this book is expertly written by someone who surely knows how to write police novels. I haven´t read anything from the Jane Candiotti series before, but I am now planning on doing it, and I cannot believe that there is no TV show about Jane Candiotti´s crime solving ways.  Different that the case of Dexter in which the "hero" is also a psychopath, in this book, the focus is on what goes thorugh the minds of the detectives and how they deal with the cases, and, as the title indicates, an unthinkable case.
I said it once, and I´ll say it again, as I was reading the book, that I devoured in a couple of sittings I was thinking, how is this not on TV? And I even did my casting on who would I put on every role, and I thought: Psych´s Kirsten Nelson as Jane Candiotti, Ralph Macchio as Kenny Marks, Dexter´s David Zayas as Edgar Silva to start with. I won´t detail the full ensemble I had in mind, as not to give away any clues on the mystery of the book itself, because you should read it first handed and not through me.
All in all, a great book, and if you like police novels, this is the one to get. The book hits bookstores on August 13th, so make sure you are taking note of this one.
If you want to buy it online or pre order it, you can check out its Amazon link.
Highly recommended. If you read it, please let me know your thoughts. Also, follow me on Twitter or my Books Pinboard on Pinterest for more book reviews.
Follow Series & TV – TV & shows scoop's board Books – Reviews and Commentary on Pinterest.
Comments
comments