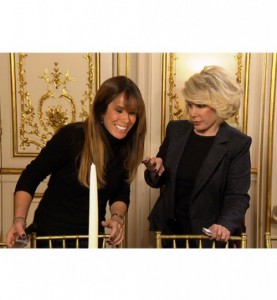 On the same day as I am reporting that Tamar & Vince got renewed for season two, another callback from WEtv is on the line, as they renewed Joan and Melissa: Joan Knows Best? for season four.
In the new season, set to premiere later this year, the show will focus on Joan´s celebrations of her 80th birthday.
The show follows comedian Joan Rivers and her daughter and Producer Melissa as they are living their lives together, after Melissa moved in with her mom in the previous season.
Following a breakup with Jason, Melissa is still looking for her prince Charming, and Joan is getting ready to blow the candles on her eightieth birthday cake.
Strap yourselves in and get ready for a wild new season, where boundaries are crossed… and walls are broken down. Joan & Melissa: Joan Knows Best? Saturday nights will never be the same, again. And this year everything will be special.
What do you think? Are you happy Joan And Melissa: Joan Knows Best? got renewed? Follow me on Twitter for more scoop on shows getting renewed like Joan And Melissa: Joan Knows Best?, or check the complete and updatable lists of renewed shows of 2013 and cancelled shows of 2013.
Comments
comments