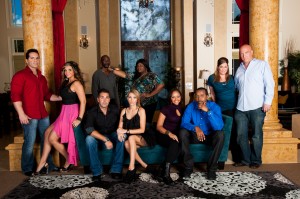 WETV is expanding on a show that has become a solid contributor to the lineup of a franchise, as Marriage Boot Camp: Bridezillas gets renewed for a second season, while airing the first one paired to the Final Season of Bridezillas which is airing two more new episodes the next couple of weeks, as Friday, August 9 at 9pm ET/PT Polish model and Bridezilla Evelina melts down when her high fashion wedding shoot gets hosed. Explosive Bridezilla Krystal loses it with her bridal party and has to be restrained; and Friday, August 16 at 9pm ET/PT, spoiled Bridezilla Yovanna demands a lavish wedding, draining her fiancé's funds. Unbalanced Bridezilla Evelina ditches a bridesmaid and crashes her fiancé's bachelor party.
But back to the renewal for Marriage Boot Camp: Bridezillas, the show has been renewed for a ten episodes second season that will premiere early 2014. When announcing it, Kim Martin, president and general manager of WE tv said: "This has been a strong summer for WE tv, with solid ratings growth largely driven by Marriage Boot Camp: Bridezillas, which has really resonated with viewers".
What do you think? Are you happy Marriage Boot Camp: Bridezillas got renewed? Let me know in the comments section. Follow me on Twitter for more scoop or check the complete and updatable lists of renewed shows of 2013 and cancelled shows of 2013.
Comments
comments