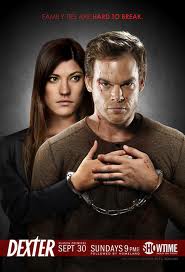 I was fortunate enough as to be invited by folks at Showtime to watch Dexter season seven premiere upfront; and if I had to pick just one word to describe the episode, it would be "Wow!". Luckily, I can go on a little longer than that one word. But I will not give any spoilers about Dexter season seven premiere.
First of all, the previously on Dexter segment edition of the episode is spot on, bringing us back to all the drama ahead, and ending at the exact moment in which Debra finds Dexter killing Travis. 
In Dexter Season Seven Premiere, in an episode called "Are You…?" Reeling from Debra witnessing Dexter kill Travis Marshall, brother and sister attempt to reconcile while struggling to cover up their involvement with the murder. Meanwhile, Detective Mike Anderson has an unfortunate run-in, Quinn and Batista begin to make amends, and LaGuerta finds evidence that causes her to re-think the closed Bay Harbor Butcher Case, which could mean trouble for Dexter – and Debra.
Non Spoilers Best Quotes from Dexter season seven premiere
Dexter: It´s simple human nature to keep little secrets about ourselves, I dye my hair, I watch Internet pornography, but what if your whole life is a secret, a lie? And exposing the truth could destroy everything you are? Would you run?.
Dexter tells Debra: "I wanted him dead, so I killed him".
Debra: Are you hurt?
Dexter: No. Physically I´m ok.
Debra: But it was self defense, right?
Dexter: Yeah, but it is still fucking weird.
And that´s as far as I can go without giving too much away. No spoilers from Dexter season seven premiere here. You´ll have to watch the episode Sunday, September 30th on Showtime.
What do you think about this non spoilery preview of Dexter season seven premiere? Head to the comments and share your thoughts. Also, remember to follow me on Twitter for more Dexter spoilers and scoop.
Comments
comments