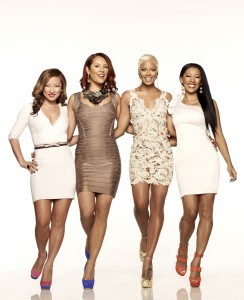 Actually… it might just be the other way round… Terrell Owens is hosting a party, that the girls go. So Terrell Owens, the football star is featured as a guest on the second episode of Girlfriend Confidential LA. While at the party, Denyce confronts T.O about having her number.
The 2nd episode airs this Monday, September 10 at (11:00PM – 12:00AM ET/PT) on Oxygen and I have the preview video of what happens on Terrell Owens party as a teaser here.
What is Girlfriend Confidential LA About? Synopsis
Most young women know that boyfriends come and go as fast as trends do, but girlfriends are forever. In the new series "Girlfriend Confidential: LA" viewers will follow these beautiful and successful friends as they help one another navigate the tumultuous waters of love and celebrity life against the backdrop of the Hollywood entertainment industry. At the epicenter of this intelligent, savvy group is fashion model, actor, and producer Eva Marcille ("America's Next Top Model"). Her friends include actress Denyce Lawton ("Tyler Perry's House of Payne"), dynamic interior and product designer Nikki Chu, and Kelly Marie Dunn, a talent and brand manager who has worked with A-list musicians and pop stars.
Will you watch? Also, follow me on Twitter for more Girlfriend Confidential LA scoop.
Comments
comments