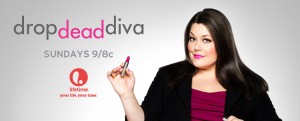 Every now and again a shocker gets added to the lists of renewed shows of 2013 and cancelled shows of 2013. In this case, Lifetime cancels Drop Dead Diva after four seasons deciding to put an end to a show that has been both creatively and ratings wise solid, and also had a big enough rabid fanbase.
So why would Lifetime cancel Drop Dead Diva if the show averaged 2.8 million viewers? Probably it has to do with creative decisions, as the cabler is looking for edgier shows. But parting ways with such a solid show with a great ensemble is a tough pill to swallow. Maybe another network can revive it, perhaps TBS can pull a Cougar Town on it.
What is Drop Dead Diva about? Plot Synopsis
In Drop Dead Diva, beautiful-but-vapid model wannabe Deb, suddenly finds herself in front of Heaven's gatekeeper, Fred, following a fatal car crash.  Outraged by her sudden demise, she attempts to persuade Fred to return her to her shallow existence but is accidentally relegated to the body of the recently deceased Jane Bingum.  An intelligent, thoughtful and plus-size attorney with a loyal assistant, Teri, Jane has always lived in the shadow of her colleagues whereas Deb has always relied on her external beauty.  By a twist of fate and a bolt of divine intervention, Deb must come to terms with inhabiting Jane's curvier frame and learn to reconcile her beauty queen ways with her brilliant, new mind.
What do you think? Are you sad Drop Dead Diva got cancelled? You can also follow me on Twitter for more scoop on shows getting cancelled like Drop Dead Diva has.
Comments
comments