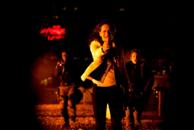 Fans of WWE are finally getting their midweek fix with the brand new installment WWE Main Event, a weekly, action-packed series premiering Wednesday, October 3 at 8:00 PM ET/PT on ION Television. Featuring the WWE Superstars and Divas of Monday Night Raw and Friday Night SmackDown, including John Cena®, WWE Champion CM Punk™, World Heavyweight Champion Sheamus™, Alberto Del Rio®, The Miz®, Kofi Kingston®, Eve® and Alicia Fox®, it's a must-see for longtime devotees and those looking for character-driven, high-octane entertainment.
The original series will showcase live events filmed across the country, as well as a stop in Europe. The taping schedule, which takes place one day prior to airing, is currently as follows:
October 2 – BOK Center, Tulsa, OK
October 9 – HP Pavilion, San Jose, CA
October 16 – FedExForum, Memphis, TN
October 23 – Dunkin' Donuts Center, Providence, RI
October 30 – Crown Coliseum, Fayetteville, NC
November 6 – LG Arena, Birmingham, England
November 13 – Quicken Loans Arena, Cleveland, OH
November 20 – Van Andel Arena, Grand Rapids, MI
The fifth season of Flashpoint, the popular crime drama, premiering on ION Television on Tuesday, October 16 at 11:00 P.M. ET/PT.
The thirteen, original one-hour episodes (airing Tuesdays at 11:00 P.M. ET/PT) follow Team One, an elite police unit that specializes in high-risk critical incidents and faces their toughest challenges yet. While trained in physical and emotional tactics to deal with extreme situations, they find themselves contemplating the very reasons they chose their paths as police officers. For Team One, the deeply personal journeys of the group pulsate through each episode, building to a powerful finale.
Will you watch Flashpoint and WWE Main Event on ION Television? Let me know in the comments section. Also, follow me on Twitter for more ION Television scoop.
Comments
comments