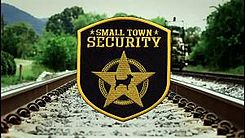 Another show to join the lists of cancelled shows of 2012 and renewed shows of 2012 that I almost lost in the unsurmountable waves of information. AMC renews Small Town Security for a second season to premiere next year.
On an official press release AMC announced today the renewal for a second season of "Small Town Security," the unscripted series that centers on a small, family-run security and private investigation company. Season one premiered in July to critical acclaim, with USA Today hailing it as a reality show that "manages to defy the stereotype" and the Associated Press saying it "bristles with authenticity even as it feels deliriously (and sometimes hilariously) hyper-real with its larger-than-life characters." The series is produced by Left/Right Films.
"'Small Town Security' was such a great ride for us in season one, and we are thrilled to be able to continue that into a second season. We have only just begun to get to know the folks at JJK Security, and there are incredibly funny and wonderful stories left to tell," said Joel Stillerman, AMC's evp of original programming, production and digital content.
Small Town Security consists of:
Joan Koplan (The Chief): Head of the JJK Security and former actress/public access television host
Dennis Croft (The Lieutenant): Joan's live-in lieutenant is hopelessly in love with her
Irwin Koplan (The Captain): Joan's husband
Brian Taylor (Office Manager): The company's detective and process server
Christa Stephens (Secretary): The office secretary who is also a "licensed cosmetologist"
Lambchop: Joan's feisty 14-year-old chihuahua.
What do you think? Are you happy AMC renewed Small Town Security? Let me know in the comments section.
Also, remember to follow me on Twitter for more scoop on shows getting renewed as Small Town Security did.
Comments
comments