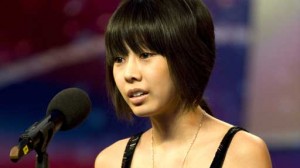 Britain´s Got Talent is a great show, where Paul Potts and George Sampson came out… and where Susan Boyle made a breaking performance for You Tube.
Britain's Got Talent is a British television show on ITV and part of the Got Talent series. Presented by Ant & Dec, it is a search for Britain's next best talent act featuring singers, dancers, comedians, variety acts, and other talents of all ages. Anyone who believed they have talent was encouraged to audition. The winner of both series received £100,000 and are given the opportunity to perform at the Royal Variety Performance in front of members of the Royal Family, including the Queen.
On the first semifinal, Sue Son followed Diversity performance on Britain´s Got Talent and had a great performance with her violin.
Who is Sue Son on Britain´s Got Talent?
Since they first met, aged 16, at the prestigious Purcell Secondary School of Music, Janine Khalid and Sue Son had no doubt dreamed of the day they'd be given their big break – a chance to showcase their exceptional skills to a wider audience and perhaps in turn be given a shot at stardom.
So as the pair took to the stage and announced they were going to perform a semi-classical piece named Chance, which Janine had composed herself, they must have done so with a little trepidation.
"Ok then this is your chance!" said Piers, as Janine walked behind her keyboard and Sue prepared her electric violin.
Whilst there was no denying girls' musical talent, Chance seemed to leave the room cold, and the judges united in their verdicts for the piece.
"I don't think the song came together at all," frowned Simon: "I thought it was dreary and indulgent, I don't see where you could go with this."
Amanda agreed: "It sounded like you were both playing completely different pieces of music – it didn't sound great to me."
"It's a no girls."
As the girls walked off stage, a discussion crackled at the judges' desk, they didn't seem 100% happy with their decision.
"I thought she was good, the violin player," said Simon before pointed to the wings with an instruction of: "We want the violin girl to come out on her own."
Backstage Sue was informed that the judges wanted to see her by herself, and after a brief: "Do you mind?" to her friend, she was back out there.
Sue was then told that the judges loved her, but hated the act, and was asked if she'd like to come back and audition as a soloist. She deliberated for what felt like an eternity before eventually agreeing: "Yes I will!" she said.
And so the next time we saw Sue she was on her own, determined to make the most of the second chance she'd been given.
"Being asked back was a once in a lifetime opportunity," she said: "I have wanted this since I was a little girl so I couldn't say no… if I don't get through I'll be devastated."
When she took to the stage for the second time she played a medley of recognisable classical music beautifully on her electric violin.
When she had finished playing and the cheers from the audience had died down, Amanda said: "I know it must have been a tough decision to leave your friend, but it's going to be the best decision you ever made darling!"
"Miles better than the double act," nodded Piers.
"Wow, wow, wow!" said Simon: "That was an incredibly complex piece… that was phenomenal!"
Three straight yeses later and Sue Son was through to the next round.
Video of Sue Son on Britain´s Got Talent Semifinal!
Click To Play
So did you like Sue Son Video on Britain´s Got Talent Semifinal?
Comments
comments