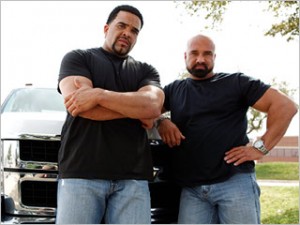 New information for our of review of all the cancelled shows on 2011 and the renewed shows on 2011…
And as we are talking aboout all of todays renewals, since Suits got renewed, In Plain Sight got renewed, True Blood got renewed and now Spike renews Repo Games for a second season.
Repo Games second season renewal order consists of a minimum of twenty episodes slated to air in 2012.
This was an expected move from the cable network since Repo Games have been averaging 1 million viewers when an original aired.
Season two renewal for Repo Games comes joined by the pickup for four new shows from Spike: World's Worst Tenants, American Digger, Big Wasy Justice and Undercover Stings.
What is Repo Games About? Plot
Repo Games follows a crew of real-life repo men, Josh Lewis and Tom DeTone, as they give debtors one last chance to keep their cars — but only if they're willing to play for it. The debtors are asked five questions, and if they get three answers correct, their cars will be paid off on the spot. If the debtors fail, their cars get a new home at the impound lot.
What do you think? Are you happy that Spike renews Repo Games for season two? Let me know in the comments section.
Also, remember to follow me on Twitter for more Cancelled and renewed shows news such as this renewal for Repo Games by Spike.
Comments
comments