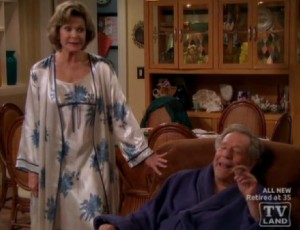 We are reviewing all the cancelled shows and renewed shows of 2011. And it shows that TVLand is doing things right with its original programming, since they kickstarted with Hot in Cleveland, that got renewed for season three.
Well, now, its second original scripted sitcom, Retired at 35 got renewed for a second season.
Retired at 35 is wrapping up its first season, and renewal order came in the form of a 10 episode second season, alongside Fran Drescher new project called Happily divorced, and Donald Faison´s The Exes, a show that also has Wayne Knight and Kristen Johnston among the cast.
"TV Land is committed to building a new home for situation comedies and we are ecstatic to build and expand on the success of our original scripted programming," TV Land President Larry W. Jones said in the statement that renewed Retired at 35 and greenlit The Exes and Happily Divorced.
This marks the return to sitcom to some big classic sitcom stars, one from The Nanny (albeit she headlined a short-lived sitcom called Living with Fran, with the very same Awesome from Chuck, and the guardian angel from Drop Dead Diva), and Scrubs Donald Faison, alongside two Third Rock from the Sun alums, one of which is also a Seinfeld alum.
What do you think about Retired at 35 being renewed? What about The Exes and Happily Divorced? Let me know.
Also, remember to follow me on Twitter for more TV Land scoop.
Comments
comments