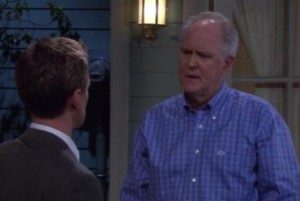 One of the most awaited moments arrived. No, we still do not know who the mother is, but we know who the father is… Barney´s father I mean.
When Barney finally meets his father, he's surprised to learn how his life turned out. Meanwhile, the gang points out each other's "gaps," something they should know by adulthood, but never learned.
And we are talking about John Lithgow as Barney´s dad… you know, The Trinity Killer… no wonder Barney turned out that way.
BTW great cast addition too, Nancy Travis as Jerry´s wife
Best Quotes from How I Met Your Mother S06E19 – Legendaddy
Barney: Ted, this is your seduction lounge
Barney: Don´t ask, you are not ready yet
Barney: Here´s the thing about me and tools: the only one I know how to use is attached to me, and I´m not gonna try putting it in the TV… again
Jerry: Barney, I got your letter
Barney: Dad
Robin: It starts in Narnia, it works its way up to Candyland, and hey, congratulate me, because I´m the new Defense Against the Dark Arts teacher at Hogwarts, Expeliarmus
Jerry: Is that Italian silk?
Barney: Dad, I love you. I´m so glad we are best friends!
Barney: My dad´s awesome, he´s the mother of all fathers
Barney: Oh my God, it took you five seconds!
Jerry: That long? Life´s too short for chatty chicks
Barney: You are Legen… wait for it… Daddy
Marshall: Lily, at our apartment you are the one who is peeing in the floor
Jerry: I think you can call me the Lebron James of drapes
Barney: I met him. He´s not my kind of bro
Barney: I´m never gonna talk to my dad again
Marshall: No Barney. I am never gonna talk to my dad again, but your dad is alive and he lives just doen the road
Marshall: I started to test you guys: The Phantom Menace is by far the best Star Wars Movie
Barney: It ages well, that´s the thing
JJ: I like having a brother
Barney: A kid needs a hoop
What did you think of How I Met Your Mother Legendaddy? Let me know in the comments section.
Also, remember to follow me on Twitter for more scoop and spoilers on How I Met Your Mother.
Comments
comments