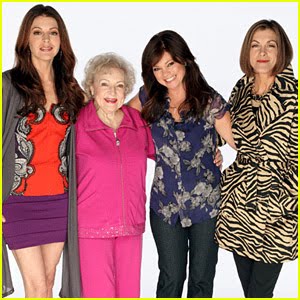 We are reviewing all the cancelled shows and renewed shows of 2011.
And this one should surprise no one. TV Land renews Hot in Cleveland for a third season. The show´s coming out from a two part storyline about Elka trying to meet Robert Redford and Victoria Chase having a bit of a fight with Susan Lucci.
We already told you the best quotes from Hot in Cleveland and Betty White´s Elka best quotes, and now we are telling you that Hot in Cleveland renewal order gets 22 episodes, reaching 66 in total so far, and approaching the milestone 100 for syndication purposes.
It is TV Land´s first original scripted series, and on the sophomore run was paired up with Retired at 35, a show whose fate is yet to be announced, although it looks promising to get a renewal order too.
Hot in Cleveland has been a big hit so far for TV Land, with averages of 3.2 million viewers, 1.6 rating in target adults 25-54  demographic.
Let´s also remember Hot in Cleveland landed TV Land´s first couple of SAG Awards nominations, and its first win via Betty White as Elka.
What do you think? Are you happy that Hot in Cleveland gets renewed by TV Land for a third season?
Will you watch it? Let me know your thoughts in the comments section.
Also, remember to follow me on Twitter for more cancelled and renewed shows news like this one about TV Land renewal of Hot in Cleveland.
Comments
comments