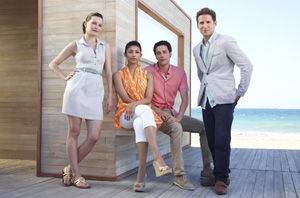 USA is making a lot bigger the lists of renewed shows on 2011 and all the cancelled shows on 2011. And the same day they made three announcements.
Paired to the renewal of Necessary Roughness, and the renewal of Covert Affairs, USA has just renewed Royal Pains for a fourth season.
In a not at all shocking turn of events, Royal Pains gets season four order. The show has averaged 7,2 million viewers in its third season, so why would you not renew it, right?
Well, season four renewal order for Royal Pains by USA consists of sixteen episodes that will air in 2012 and will continue to show us the lives of the Lawson brothers, Hank and Evan, played by Mark Feuerstein and Paulo Costanzo, and all the struggles they have while living in the Hamptons and taking on the challenge of a succesful on-call doctor company named HankMed.
Jill Flint, Reshma Shetty, Campbell Scott, Brooke D´Orsay and Henry Winkler make this cast ensemble even better and the storylines flow.
What do you think? Are you happy USA renewed Royal Pains? Let me know in the comments section.
Also, remember to follow me on Twitter for more cancelled and renewed as Royal Pains shows scoop.
Comments
comments