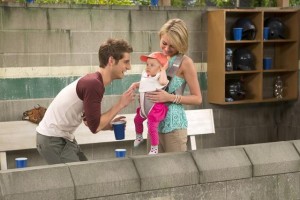 This day ABC Family gave several green lights for shows to comeback, all of those you can find in the lists of cancelled shows of 2012 and renewed shows of 2012. And in this case we are talking about a sitcom coming back. ABC Family renewed Baby Daddy for second season.
Michael Riley, President of ABC Family, has done the announcement. And the show will come back in Spring 2013. "Two years ago we embarked on a bold strategy to grow the breadth and scope of original programming and create a Wednesday night summer comedy destination," said Riley. "The new series have resonated with our viewers, and the combination of drama, comedy and reality brings great depth to our lineup. Our stable of strong series continues to grow, and I'm thrilled with the strength of our schedule."
"Baby Daddy" follows Ben (Bilodeau), a young man in his early 20s living the life of a bachelor as a bartender in New York City with his buddy, Tucker (Mowry), and his brother, Danny (Theler), a professional hockey player. Their lives are turned upside down when they come home one day to find a baby girl left on the doorstep by an ex-girlfriend of Ben's. After much deliberation, Ben decides to raise the baby with the help of his friends and his protective and sometimes over-bearing mother, Bonnie (Peterman), and his close female friend, Riley (Kane), who has had a secret crush on him since childhood. Riley is hopeful that Ben will finally take notice, but she doesn't realize that Ben's brother, Danny, is harboring a secret crush on her.
The series stars Jean-Luc Bilodeau ("Kyle XY"), Derek Theler ("90210"), Tahj Mowry ("The Game"), with Melissa Peterman ("Reba") and Chelsea Kane ("Dancing with the Stars," "Jonas LA"). "Baby Daddy" is created and executive-produced by Dan Berendsen ("The Nine Lives of Chloe King," "Sabrina, the Teenage Witch" and "Hannah Montana: The Movie"). "Baby Daddy" is a multi-camera comedy that shoots in front of a live studio audience in Los Angeles.
What do you think? Are you happy ABC Family renewed Baby Daddy? Let me know in the comments section.
Also, remember to follow me on Twitter for more shows getting renewed as Baby Daddy did scoop.
Comments
comments