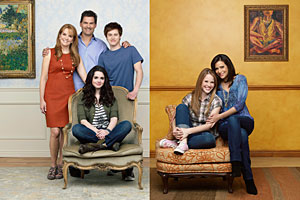 There has been too much movement today on the lists of cancelled shows of 2012 and renewed shows of 2012, specially from ABC Family, and now let´s talk about it. ABC Family renewed Switched at Birth for season two.
I the official announcement of Switched at Birth renewal, the cabler said "Already established as a destination for hit dramas, the network will also produce a second season of the award-winning hit series "Switched at Birth,".
In "Switched at Birth," two families are forever altered when they discover their daughters were switched at birth. Life hasn't been easy for hard-working, single mom Regina Vasquez, but along with her mother, Adriana, Regina has provided her 16-year-old daughter, Daphne — a typical teenager who just happens to be deaf — with a loving and secure home. Although she attends a school for the deaf and hard-of-hearing with best friend Emmett, Daphne's hearing loss does not prevent her from leading a full life. In sharp contrast to the Vasquezes, Kathryn, a stay-at-home mom, and John Kennish, a retired professional athlete, lead a seemingly perfect life with their two children, Bay and Toby. But when the Kennishes learn the hospital made a grievous error and that Bay is not their biological child, their entire world is turned upside down. Regina, Kathryn and John must learn to co-exist as parents and to blend two families into one for the sake of their daughters, despite overwhelming socio-economic, ethnic and cultural differences.
"Switched at Birth" recently received a Television Critics Association Award for Outstanding Achievement in Youth Programming and an Imagen Award for Best Primetime Program, and has been honored with AFTRA's (American Federation of Television and Radio Artists) American Scene Crystal Award®, the Producers Guild of America George Sunga Award and a Gracie Award.
"Switched at Birth" is executive-produced by Lizzy Weiss ("Blue Crush"), Paul Stupin ("Make It or Break It"), Becky Hartman Edwards ("Parenthood") and John Ziffren ("Melissa & Joey," "Make It or Break It"). The series also stars Katie Leclerc as Daphne Vasquez; Vanessa Marano ("Gilmore Girls") as Bay Kennish; Constance Marie ("George Lopez") as Regina Vasquez; D.W. Moffett ("Friday Night Lights") as John Kennish; Lea Thompson ("Back to the Future," "Caroline in the City") as Kathryn Kennish; Lucas Grabeel ("High School Musical") as Toby Kennish; and Sean Berdy as Emmett Bledsoe, along with guest stars Gilles Marini ("Dancing with the Stars") and Marlee Matlin ("The West Wing").
"Switched at Birth" will return with all new episodes on Monday, September 3 at 8:00 p.m. In advance of the premiere, Hyperion will release a Switched at Birth book (available at online retailers on August 28), divulging the contents of a memoir authored by the character Kathryn Kennish (played by Lea Thompson) in the series.
What do you think? Are you happy ABC Family renewed Switched at Birth? Let me know in the comments section.
Also, remember to follow me on Twitter for more shows getting renewed as Switched at Birth did scoop.
Comments
comments