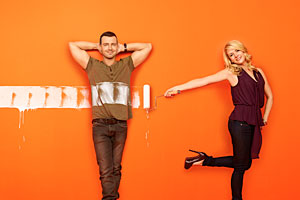 Today the lists of cancelled shows of 2012 and renewed shows of 2012; grew a lot. And this one is great news: ABC Family renews Melissa & Joey for season three. The show has become a steady force in the network, and is on its best season numbers lately.
The network has ordered a third season of Melissa & Joey to hit the screen in Spring 2013.   In the official statement, ABC Family reads "After launching a successful Wednesday night comedy block with Melissa & Joey and Baby Daddy, cable TV's #1 telecasts in their half-hours across the network's core Adults 18-34, Adults 18-49 and Millennial demos, ABC Family has ordered a third season of Melissa & Joey and a second season of Baby Daddy."
In the hit ABC Family original comedy series "Melissa & Joey," Mel (Melissa Joan Hart) is the former wild child of a political family who is now a successful councilwoman in Toledo. Thanks to a financial scheme gone horribly wrong, Mel's sister ends up in prison and sends her brother-in-law on the run from the law, leaving Mel as the legal guardian for her teenaged niece, Lennox, and nephew Ryder. Spread too thin to manage by herself, Melissa gets help in the unlikely form of Joe (Joey Lawrence) who, desperate for a job, agrees to move in and becomes the family's "manny." Together Mel, Joe, Lennox and Ryder form an unlikely family as they navigate the comedic twists and turns of life.
"Melissa & Joey" is a half-hour multi-cam comedy executive-produced by Bob Young & David Kendall, Paula Hart, Melissa Joan Hart, Joey Lawrence and John Ziffren. Melissa Joan Hart ("Sabrina, the Teenage Witch"), Joey Lawrence ("Blossom"), Taylor Spreitler ("Days of Our Lives") and Nick Robinson star.
What do you think? Are you happy ABC Family renewed Melissa & Joey? Let me know in the comments section.
Also, remember to follow me on Twitter for more shows getting renewed as Melissa & Joey did scoop.
Comments
comments