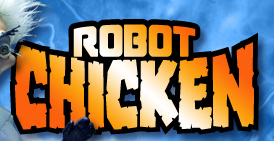 Some shows are regulars on the list of renewed shows of 2012, and avoid the list of cancelled shows of 2012 year after year, in what can be called iconic. Adult Swim renewed Robot Chicken for season seven.
Today Adult Swim announced the renewal of Robot Chicken for season seven, while season six is still airing. The show has crossed the milestone 100th episode this season airing on Sunday Nights.
Robot Chicken is an American stop-motion animated comedy television series created and executive produced by Seth Green and Matthew Senreich along with co-head writers Douglas Goldstein and Tom Root.
Old-school stop-motion animation and fast-paced satire are the hallmarks of this eclectic show created by Seth Green and Matt Senreich. Action figures find new life as players in frenetic sketch-comedy vignettes that skewer TV, movies, music, and celebrities. It's television especially formulated for the Attention Deficit Disorder generation. Completely random and fast-paced stop-motion animation is all what Robot Chicken is about. With every episode being the Adult Swim traditional 11 minutes, each is packed full of hilarious parodies and shorts. And the best thing is you never know who you'll see the next episode.
What do you think? Are you happy that Adult Swim renewed Robot Chicken for season seven? Head to the comments to discuss.
Also, follow me on Twitter for more scoop on shows being renewed as Adult Swim did.
Comments
comments