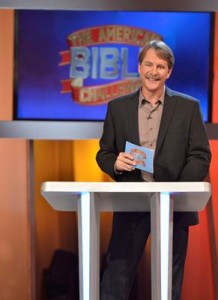 Now it´s time for a game show to join the lists of cancelled shows of 2012 and renewed shows of 2012; in this case, in the pickup list, as GSN renewed The American Bible Challenge for season two.
Jeff Foxworthy will return as Host of GSN's Number One Original Series of All Time. So, if it´s the number one original of all time for the cabler, it´s a no brainer they are bringing it back.
GSN has ordered a second season of its highest-rated original series of all time, 'The American Bible Challenge, a one-hour game show hosted by comedian Jeff Foxworthy in which contestants compete based on their knowledge of the Bible. The network has ordered nine episodes for season two, which is slated to air in 2013.
"'The American Bible Challenge' is a hit with our viewers both on air and on-line and they have been clamoring for a second season even before the first has ended," said Amy Introcaso-Davis, GSN's Executive Vice President, Programming. "With season two, we are honoring this request and promise to bring more Jeff Foxworthy, more heartwarming moments, and more joy and entertainment for the whole family."
Tom Forman, CEO, RelativityREAL said, "You hear a lot about networks 'taking risks,' but so few really do it. We were thrilled when GSN truly tried something new and exciting with 'The American Bible Challenge,' and we couldn't be happier that viewers responded. It's going to be a great second season."
Currently airing Thursdays at 8 PM ET/PT, 'The American Bible Challenge garnered the network's highest delivery in its 17-year history with 1.7 million total viewers for its August 23rd series premiere. Factoring in the encore airing, the premiere episode was watched by over 2 million viewers. Since its debut, the series continues to grow and has now been seen by over 12 million total viewers.
Therefore, GSN renews The American Bible Challengedeservedly so.
What do you think? Are you happy GSN renewed The American Bible Challenge for season two? Let me know in the comments section.
Also, remember to follow me on Twitter for more scoop on shows getting renewed as The American Bible Challenge did.
Comments
comments