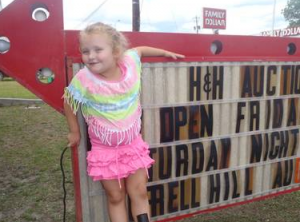 Sometimes a show gets renewed for a new season, and sometimes show join the lists of cancelled shows of 2012 and renewed shows of 2012 with backorders for the freshman run. That is the case here, as TLC renews Here Comes Honey Boo Boo for a first season backorder, while also adding three holiday specials to air in between.
TLC first introduced viewers to TODDLERS & TIARAS star Alana, aka " Honey Boo Boo"  in January, where her amusing personality and self-confidence won over viewers and her self-proclaimed nickname became a fixture in pop culture. Now the show has become a phenomenon for TLC making it a "not to think too much about it" kind of decision to renew Here Comes Honey Boo Boo for an extended first season run and the holiday specials, making it also a strong possibility that the show will also get a second season renewal order before completing the first run.
The show provides an inside look into Alana's world where the six-year-old pageant sensation proves that she is more than just a Go-Go Juice-drinking beauty queen. When she's not chasing after crowns, Alana's with her family in rural Georgia doing what her family does best: four-wheeling through mud pits and picking up road kill for the family cookout.
Each episode follows Alana and her family: stay-at-home mom June, chalk-mining dad Sugar Bear, and sisters 12-year-old Lauryn  "Pumpkin", 15-year-old Jessica "Chubbs", and 17-year-old pregnant Anna "Chickadee". From family outings to loud and crazy family get-togethers, HERE COMES HONEY BOO BOO takes us off the pageant stage and into the unapologetically outrageous family life of the Honey Boo Boo clan.
What do you think? Are you happy TLC renewed Here Comes Honey Boo Boo? Let me know in the comments section.
Also, remember to follow me on Twitter for more scoop on shows getting renewed as Here Comes Honey Boo Boo did.
Comments
comments