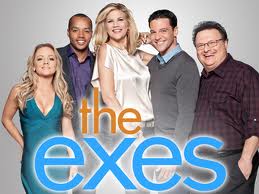 2012 keeps bringing it. So the lists of cancelled shows of 2012 and renewed shows of 2012 keep getting bigger and bigger. Now, let´s look at another one that´s getting the callback: TVLand renews The Exes for season three. This ensemble comedy is coming back for another run, since it has been solid for the cabler.
"The Exes," which averaged 1.2 million total viewers per week, stars critically-acclaimed actors Donald Faison ("Scrubs"), Wayne Knight ("Seinfeld," "Hot in Cleveland"), David Alan Basche ("The Starter Wife"), Kelly Stables ("Two and a Half Men") and Kristen Johnston ("3rd Rock From The Sun").
Third season renewal order for The Exes consists on ten episodes set to be produced in 2013.
"The Exes" follows ladies' man Phil (Faison) and couch potato Haskell (Knight) living with
clingy and recently-divorced Stuart (Basche) – a third roommate recently forced upon
them by their landlord/divorce attorney, Holly (Johnston). Luckily, Holly is there to help
avert any disasters – or in some cases, cause them. Meanwhile, Holly's assistant, Eden
(Stables), doesn't exactly let professionalism get in the way of prying into her boss's
personal life. Mark Reisman ("Frasier") is showrunner and also serves as executive
producer along with Michael Hanel and Mindy Schultheis ("Reba," "Titus"), and Franco
Bario is co-executive producer. Larry W. Jones and Keith Cox serve as executive
producers for TV Land.
What do you think? Are you happy The Exes got renewed? You can also follow me on Twitter for more scoop on shows getting renewed like The Exes has.
Comments
comments