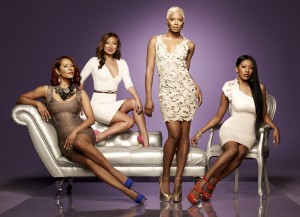 Oxygen is preparing everything to launch their newest bet. In the new series "Girlfriend Confidential: LA," viewers will follow four beautiful and successful friends as they help one another navigate the tumultuous waters of love and celebrity life against the backdrop of the Hollywood entertainment industry.
And it´s time to meet these four women:
Who is Eva Marcille- @evamarcille?
At the epicenter of this savvy group is fashion model, actor, and producer Eva Marcille. She rose to fame as "America's Next Top Model," but is now working hard on her acting career and wants to market herself as an entrepreneur and not just a model. Eva's current love interest, Anthony, fits perfectly into her private life because he is a normal guy with a huge heart. However, with their one-year relationship mark quickly approaching, Eva must decide if Anthony will be in her future.
Who is Denyce Lawton- @denycelawton?
Having starred in "Tyler Perry's House of Payne," Denyce Lawton is a rising actress who keeps it real and tells it like it is. She is trying to adapt to the single life after recently breaking off an engagement, while also grieving the tragic loss of her brother to a senseless murder.
Who is Nikki Chu- @lovenikkichu?
Nikki Chu is a high-profile design diva who wants to be the next Martha Stewart and has worked hard to build her design company, Nikki Chu Design. As the most Zen-like of the group, she's constantly laying out her "wisdom" to the ladies.
Who is Kelly Marie Dunn- @kellymariedunn?
Also known as the "Pink Piranha," Kelly Marie Dunn is a tiny bundle of beauty, brains and sassy ambition. She made a name for herself as the day-to-day product manager for Lady Gaga when the singer was on the verge of massive superstardom and she is currently rebranding herself.
Girlfriend Confidential LA preview video clip
Anthony, Eva's boyfriend, calls her while she is in NYC and gives her some bad news which leaves her in tears.
Eva, Denyce, Kelly and Nikki meet for dinner and the conversation turns to love and sex.
Eva Marcille and her best girlfriends Denyce, Kelly and Nikki discuss what friendship is all about.
In this interview we get to know Eva Marcille.
Will you watch Girlfriend Confidential LA on Oxygen? Mark the date when Girlfriend Confidential LA premieres on Monday, September 3 (11:00PM – 12:00AM ET/PT) on Oxygen (after Bad Girls Club).
Also, follow me on Twitter for more scoop on this show.
Comments
comments