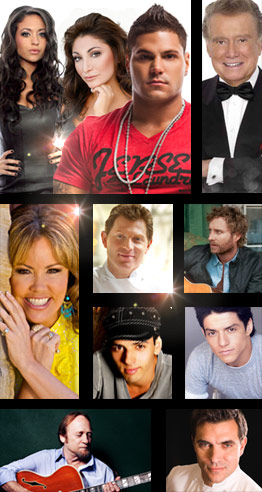 Folks at Mohegan Sun are celebrating and they sure have a reason to do it. The multiplatform entertainment centre from Connecticut is reaching the milestone of getting to fifteen years! And on that period they sure had a great run, watching Michael Jordan comeback to basketball, Lennox Lewis become a champion, and a star studded roster of shows.
And this weekend the celebrations will be non stop; starting Friday October 21st 4:00pm at The Shops at Mohegan Sun a free event featuring the one and only, Susan Lucci.
She¹s the most famous face of daytime television, and now she's sharing her stories with fans at Mohegan Sun. Susan Lucci, star of ABC's All My
Children, unleashes her literary talents in her new autobiography All My
Life: A Memoir during a free Signings & Sightings event on Friday, October
21st. Get up-close-and-personal with this television icon as she signs
copies of her book for fans in The Shops at Mohegan Sun.
But that´s not all, there´s a Regis Philbin Farewell Tribute Dinner, A Reality Check with Jersey Shore Ronnie, Sammi and Deena; A Free Event with Stephen Stills at The Wolf Den (Go figure, getting to see Stills playing for free!); and Celebrity Autobiography with SNL´s Rachel Dracht among others.
And the celebrations continue on Saturday October 22 Bobby Flay will be signing books at 11 AM and at 8PM at the Mohegan Sun Arena J-LO will perform. On the same weekend as Stephen Stills for free, you can check a show by Jennifer Lopez. Not bad, huh? But at the same timeslot, at The Wolf Den, Dierks Berkley is also playing for free.
What do you think? Will you go to Mohegan Sun 15th anniversary?
Let me know how it goes.
Comments
comments