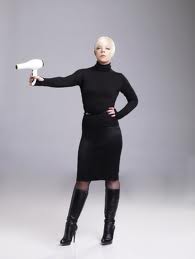 Hair Style is getting her queen back! "Tabatha's Salon Takeover" returns with a brand new season on Monday, December 6 at 10PM ET/PT with the no-nonsense and smartly styled Tabatha Coffey, as she transforms the lives and businesses of salon owners across the country. In season three, Coffey hits the road and visits struggling salons in California, Massachusetts and Texas. For one week, she confiscates the keys to the establishments and takes over as boss, bringing her unapologetic, brutally honest approach to the salon owners and stylists who are in dire need of her skilled business direction.
List of Salons getting Makeover from Tabatha
·           Mia Bella – San Bruno, CA
·           Christopher Hill – Brentwood, CA
·           Vendome – Houston, TX
·           West End – Provincetown, MA
·           Avanti – Boston, MA
·           Touch of Elegance – Tewkesbury, MA
·           Bqute – Palmdale, CA
·           A Star Is Born – Mission Viejo, CA
·           Concerto – Valencia, CA
Who is Tabatha Coffey?
Tabatha Coffey has devoted her entire professional life to achieving excellence in hair design and education. She now brings her years of hands-on experience to help struggling salon owners turn around their businesses in the Bravo series, "Tabatha's Salon Takeover."  With her signature edgy style, youthful energy and exceptional skills as an artist and educator, Tabatha Coffey is without question the industry's golden girl.
Coffey's resume reads like a biography of a born hairstylist. From the beginning of her career when she was 14 in her native Surfer's Paradise, Australia, to her appearance as the "Fan Favorite" on Bravo's hit series, "Shear Genius" in 2007, Coffey has been completely devoted to the art of hair. Over the last 27 years, Coffey has worked with a veritable who's who of the industry in Australia, Great Britain and the United States and has continuously developed, fine-tuned and broadened her skills as an artist, educator and business owner. For 10 years, Coffey represented a globally know hair company as a key member of the Artistic Team. In addition to regularly traveling around the world to educate stylists and represent the company at hair shows, Coffey also worked closely to help create the incredible hairstyles featured in advertising and trend collection imagery.
Coffey has a new memoir coming out from Harper Collins titled "It's Not Really About the Hair: The Honest Truth About Life, Love, and the Business of Beauty." Coffey works regularly as an editorial stylist for fashion and beauty publications and backstage during New York's Mercedes Benz Fashion Week. Her work has been featured in several publications, and Coffey is the go-to girl for beauty questions in the industry. When she is not on the road taking over someone else's salon, Coffey is busy leading her team of hairstylists and colorists at her own salon, Industrie Hair Gurus in Ridgewood, New Jersey, where she is in high demand and has built a large clientele. Coffey also works with clients in Los Angeles at the Warren-Tricomi salon in West Hollywood.
Will yu watch the new season of Tabatha´s Salon Takeover on Bravo TV?
Let me know in the comments section. Also, remember to follow me on Twitter for more scoop on Tabatha´s Salon Takeover.
Comments
comments