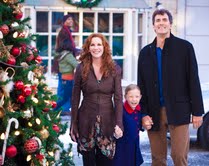 Every week a new movie in the them of Christmas and the holidays. That´s Hallmark come this time of year. And that´s great to gather the family in front of the TV and have a good time with all of them.
Well, for December 11 Hallmark is planning to premiere The Christmas Pageant starring Melissa Gilbert.
Emmy® and Golden Globe nominee Melissa Gilbert ("Little House on the Prairie") gets top billing starring as a recently-fired-again, domineering Broadway director whose only job option is getting a community Christmas play up and going in "The Christmas Pageant," a Hallmark Channel Original Movie World Premiere, Sunday, December 11 (8p.m. ET/PT, 7C). Co-starring with Gilbert are Robert Mailhouse ("Love is a Four Letter Word," "Easy to Assemble"), Ed Herrmann ("Gilmore Girls") and Lennon Wynn ("Flash Forward").  Hallmark Channel's COUNTDOWN TO CHRISTMAS features more true holiday-themed programming than any other network. Hallmark Channel is proud to be the official TV partner with Marine Toys for Tots working with the foundation to fulfill their mission that every child deserves a toy during the holidays.
Vera Parks (Gilbert), an overly intense and demanding Broadway director gets fired from yet another job, leaving her no choice but to take a gig directing a small town Christmas pageant in upstate New York.  Stunned at how basic the production is, Vera attempts to back out, but is convinced by some of the locals to give their town a chance.
To her surprise, the warmth and charm of the small town grows on Vera and she even enjoys the experience of directing the pageant.  When Vera discovers her former fiancé Jack (Mailhouse) recommended her for the job, she is outraged.  But over time Vera appreciates the gesture, as she grows close to both Jack and his young daughter (Wynn).  Will love stay in the wings this time around?  Or is this Vera's eleven o'clock number after all?
What do you think? Will you watch The Christmas Pageant on Hallmark Channel December 11? Let me know in the comments section.
Also, remember to follow me on Twitter for more Hallmark Channel scoop.
Comments
comments