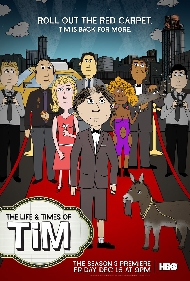 The animated comedy series is coming back to HBO to premiere its third season this Friday December 16 9PM.
What is The Life & Times of Tim About? Plot Synopsis
Tim  is  a  normal,  twentysomething  New  Yorker  trying  to  get  ahead  at  work  while keeping  his  girlfriend  Amy  happy  and  living  a  "normal"  life.    However,  in  Tim?s  world,  his often peculiar choices leave him in outlandish, surprising situations.
In  this  third  season  of  THE  LIFE &  TIMES  OF  TIM,  Tim?s  habit  of  befriending bizarre  and  unusual  personalities  in  New  York  City  continues  to  put  him  in  dangerously funny  circumstances.   In  addition  to  Dildarian,  voices  are  provided  by  Mary  Jane  Otto (Amy),  Nick  Kroll  (Stu),  Matt  Johnson  (Rodney)  and  Peter  Giles  (The  Boss).   Guest voices this season  include  Jennifer  Coolidge,  Rob  Corddry,  Andrew  Daly,  Jon  C.  Daly, Jamie  Denbo, Bob Einstein,  Joe  Flaherty,  Andy  Kindler,  Marc  Maron,  Penny  Marshall, Edie McClurg, Alfred Molina, Mary Kay Place, Ian Roberts, Stephen Root, Paul Rust, Bob Saget, Horatio Sanz, Paul Scheer, George Wallace, Kym Whitley, Fred Willard, Billy Dee Williams and Anton Yelchin.
Folks at HBO also sent me the Official Poster for the new season of The Life and Times of Tim, that is on this article, and I also have a couple of videos.
Season 3 Trailer from The Life and Times of Tim Video
Season 2 Recap from The Life and Times of Tim Video
What do you think? Will you watch The Life and Times of Tim? Let me know in the comments section.
Comments
comments