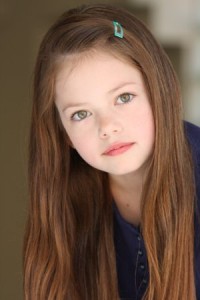 We posted about Twilight breaking Dawn Casting Call Auditions a while ago, now it´s time to learn about some Casting News from Twilight Breaking Dawn. Not only Lost alum Maggie Grace joins the cast of Twilight to play Irina, but today, as Entertainment Weekly reports, little 9-year old Mackenzie Foy  is inches away from signing on to play Renesmee, Edward and Bella's vampire/human love child that's a central role in the final installment of The Twilight Saga: Breaking Dawn.
It's not yet clear how the diminutive actress, who's appeared in one episode each of television shows FlashForward and 'Til Death, will portray the character who ages a full 17 years in only seven. Sources have suggested that director Bill Condon will employ similar digital effects to those used by David Fincher in The Curious Case of Benjamin Button, where Foy's face would be digitally transferred onto the face of a younger child. It's also probable that the studio will hire a younger child in some capacity, too.
Who is Mackenzie Foy? The girl who plays Renesmee on Twilight Saga: Breaking Dawn
Mackenzie Christine Foy was born on November 10th, 2000, is a little girl actress with little film experience yet, but some interesting TV roles such as Katie Erskine in Flash Forward, and a couple of gigs in Charmed and ´Til Death. She has done over ten TV Commercial campaigns, and over 300 print campaigns, so she has a lot of commercial and acting experience, just not on films yet.
According to her official website, Mackenzie Foy is one of those special kids that you will never forget. She has never met a 'stranger'. Mackenzie lights up any room she enters and becomes best friends with everyone. She is EASILY directed and absolutely loves being in front of the camera and on stage.
Mackenzie Foy takes dance ballet, tap, jazz & Taekwondoe (Blue Belt). She likes ballet best.
Mackenzie Foy sometimes gets a little present from the company she models for.
She is home schooled and loves both acting and modeling.
Mackenzie Foy loves giraffes with their white fuzzy wuzzy hair. She also loves horses and fairies.
Mackenzie has 3 pets, 2 dogs, called Windy and Dusty and a cat called Luna.
So, what do you think of this casting news from Twilight Saga: Breaking Dawn? Is Mackenzie Foy joining Twilight Breaking Dawn as Renesmee a good move? Let me know in the comments section for your thoughts.
Also, remember to follow me on twitter for more casting News on Twilight Breaking Dawn.
Comments
comments