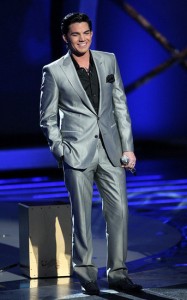 On with some more news from American Idol: Adam Lambert Album to Release This Summer Called On With The Show
An album featuring Adam Lambert is coming out sooner than expected. Songs from the "American Idol" runner-up will be released this summer by Hi Fi Recordings and Wilshire Records, beginning with the single "Want." John Hecker, CEO of Hi Fi Recordings, said the tracks were recorded in 2007 and 2008 before Lambert's rise on the popular Fox singing competition. The album will be titled "On with the Show."
"We were presented with a business opportunity," said Hecker. "We accepted because Wilshire Records had a long working relationship with Adam, and it resulted in excellent music that they had the rights to. The music has an audience, and it deserves to be heard. I think it's great music. At the end of the day, from my perspective, we're really helping Adam."
Hecker said Wilshire Records approached Hi Fi Recordings about releasing the material earlier this year when Lambert was gaining success on the show. He said the album will feature 11 or 12 songs, many of which were co-written by Lambert.
He described "On with the Show" as a "complete album" that would include mid- and up-tempo songs, ballads and rock tunes.
Lambert inked a record deal with 19 Entertainment and RCA Recordings earlier this month after losing to Kris Allen on the "Idol" finale. Lambert is scheduled to record that album while on the road with the show's finalists for the "Idols Live Tour," which starts July 5 in Portland, Ore. The untitled album from 19 and RCA is expected for release in the fall.
Comments
comments