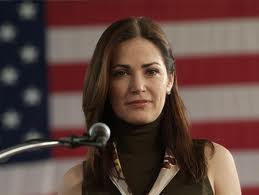 Mr Spoiler Alert, Michael Ausiello teased a while back in one of his blind items about the departure via getting killed off of a beloved leading lady and everybody´s theories strated going out like crazy. Now, today he is finally unveiling the answer, and that is in a big time spoiler form: Claudia Joy Holden will die on Army Wives season seven premiere, as a part of the show´s revamping, that will also mean the demotion of another fan favourite, Roxy to a guest star status, and not a regular anymore.
But let´s go back to Claudia Joy Holden dying on Army Wives: Kim Delaney´s character will be killed off in the premiere on an off the screen tragedy that will serve for a launching pad of new storylines and a revamped seventh season that attempts to bring the show back to its roots.
Other noted changes include the addition of three new female characters and maybe even a change of setting.
There´s still a long time until Army Wives comes back for season seven, as it is scheduled for mid 2013, but this killing off of Claudia Joy Holden will be buzz worthy.
What do you think about Claudia getting killed off Army Wives? Let me know your thoughts. Also, follow me on Twitter for more Army Wives scoop.
Comments
comments