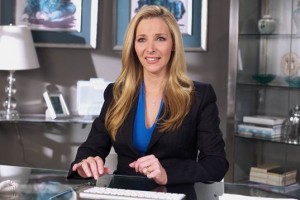 Today I added one sitcom to both lists of cancelled shows of 2012 and renewed shows of 2012. Same day as CBS cancels Partners, Showtime renews Web Therapy for season three.
Remember when there was thought to be a Post Friends curse? Well, it seems not anymore, as Matthew Perry´s Go On has a solid first season, Matt Leblanc´s Episodes has been already renewed, Courteney Cox´s Cougar Town is entering a new season soon, and now Lisa Kudrow´s Web Therapy gets renewed for season three. David Schwimmer and Jennifer Aniston are trying different stuff very successfully too.
SHOWTIME has ordered a third season of WEB THERAPY, the web-to-television comedy series starring Emmy® Award winner Lisa Kudrow. Season three will include ten, half-hour episodes and air on the network in 2013.
"We're shooting webisodes right now, and it's just so much fun to do," says Kudrow. "These actors we get to play with are so inventive and nimble and FUNNY. We're beyond thrilled to get a third season on SHOWTIME because it's such a good fit."
Some of the biggest names in film and television including current SHOWTIME star and Golden Globe® Award winner Matt LeBlanc (Episodes); Meg Ryan (You've Got Mail); and Jesse Tyler Ferguson (Modern Family) will be featured as guest stars – along with more celebrities to be announced soon. Kudrow will continue in her role as the delusional and narcissistic online therapist "Fiona Wallice," who treats patients in three-minute sessions via webcam.
Last season included an extraordinary guest star list featuring Meryl Streep, David Schwimmer, Rosie O'Donnell, Conan O'Brien, Molly Shannon, Minnie Driver, and Lily Tomlin, among others.
What do you think? Are you happy Web Therapy got renewed? You can also follow me on Twitter for more scoop on shows getting renewed like Web Therapy has.
Comments
comments