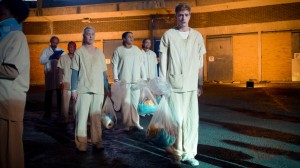 Zombie is big, very big on TV lately, with The Walking Dead reigning as the biggest show currently on TV even though from cable. And now, from across the pond, another piece of good news for a zombie show, as BBC renewed In The Flesh for another run (or should I say walk) of the zombie drama.
BBC Three today announces a new series commission for Dominic Mitchell's drama, In The Flesh, following a successful three-part serial earlier this year.
The drama was first developed by the BBC Drama Production team in Salford and writer Dominic Mitchell was discovered through 'Northern Voices', a BBC Writersroom competition.
Series two revisits the cauldron of Roarton where the living and the undead have reached a fragile peace. After the shocking events of series one, Kieren is hoping to get on with his second life but the arrival of new and explosive characters throws those plans into disarray. Battle lines are drawn and all will be judged.
Writer Dominic Mitchell says: "I am absolutely delighted and thrilled to be given this fantastic opportunity to continue exploring the characters and world of In The Flesh."
Zai Bennett, Controller, BBC Three, says: "In The Flesh was a fantastically original and engaging drama for BBC Three. I'm delighted Dominic and the team will be able to tell more stories from the riveting characters and engaging world they created."
Kate Harwood, BBC Head Drama, England, adds: "It is testament to the brilliant and talented in-house drama team in Salford that In The Flesh has been commissioned as a series. I am immensely proud of Dominic's fantastic writing and can't wait to see how the stories unfold."
In The Flesh was commissioned by Ben Stephenson, Controller BBC Drama and Zai Bennett, Controller for BBC Three.
What do you think? Are you happy In The Flesh got renewed? Follow me on Twitter for more scoop on shows getting renewed like In The Flesh, or check the complete and updatable lists of renewed shows of 2013 and cancelled shows of 2013.
Comments
comments