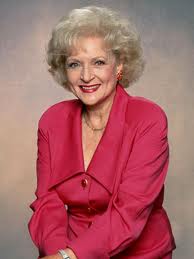 You know her, you love her… everybody loves her. She´s Betty White, number one on the top ten leading ladies on TV list. And she is turning 90.
Ellen DeGeneres, Morgan Freeman, Tina Fey, Ray Romano, Seth Meyers and Tracy Morgan have joined the star-studded line-up paying tribute to one of the world's most beloved entertainers in "Betty White's 90th Birthday: A Tribute to America's Golden Girl" on Monday, January 16 (8-9:30 p.m. ET).
Carl Reiner, Jennifer Love Hewitt, Vicki Lawrence And John O'hurley Also Pay Tribute To White Along With Previously Announced Guests, Including White's 'Mary Tyler Moore' And 'Hot In Cleveland' Co-Stars Also Included Is Sneak Preview of the TV Icon's New NBC "Hidden Camera" Series "Betty White's Off Their Rockers" to Follow 90th Birthday Salute from 9:30-10 p.m. (ET).
Previously announced stars paying tribute to the seven-time Emmy winner include Mary Tyler Moore and White's "Mary Tyler Moore" co-stars Ed Asner, Valerie Harper and Gavin MacLeod, as well as Hugh Jackman, Carol Burnett, Jay Leno and Amy Poehler. White's "Hot in Cleveland" co-stars Valerie Bertinelli, Wendie Malick and Jane Leeves will also be on hand to deliver birthday wishes along with Joel McHale and William Shatner.
Immediately following the birthday special will be a sneak preview of NBC's "Betty White's Off Their Rockers" (9:30-10 p.m.), an outrageously funny hidden-camera season unlike anything viewers have ever seen. The show takes senior stereotypes and blows them out of the water as fearless senior citizens take to the streets to pull shocking, unexpected and hilarious pranks on the younger generation.
The birthday special, taping at the Biltmore Hotel in downtown Los Angeles, will include special musical performances, surprise appearances and comedy, and will feature the irreverent tone, spirit and energy that is the hallmark of White's six-decade career in show business. White will take the stage to share some memories and give thanks to those who've come to honor her.
From her first words on radio in 1947, to her current TV series "Hot in Cleveland," viewers will be taken on an unprecedented journey through White's storied career. Her work on game shows, talk shows, "The Mary Tyler Moore Show" and "The Golden Girls" will be featured, along with her performances in movies and commercials. And most importantly, White will be saluted for her favorite role: making the world a better place for animals.
The special is produced by Brad Lachman Productions and Universal Television, with Brad Lachman, Jon Macks and Steve Ridgeway serving as executive producers.
Will you watch Betty White´s Birthday Special on NBC January 16? Let me know in the comments section. Also, remember to follow me on Twitter for more Betty White scoop
Comments
comments