Ok, this one is going to be hard as hell!
First of all, what do one consider a leading lady? Does Emily Deschanel count as the leading lady on Bones? Or is it a leading duo with Boreanaz?
Well, what I did was to take her into consideration, as well as other ladies in the same situation. but I did not count anyone in bigger ensembles as Modern Family, Glee or How I Met Your Mother, where, let´s face it, there´s a big pool of talent and beauty.
There´s also the "how you rank" them factor. Is it because of the character? Is it because of beauty? Is it because of talent? Is it because of what?
Well, I did no algorithm, but ranked them as I wanted to. Therefore you can debate all you want to in the comments section.
Let´s see who made the cut
Top ten leading ladies in TV
1- Betty White – Elka Ostrovsky – Hot in Cleveland
Every second of Betty White on TV is pure magic. She proved it when she hosted the best Saturday Night Live of the last few years, and she proves it every week when headlining Hot in Cleveland. The first original from TV Land, and while one might argue the show is an ensemble cast (and a great cast while we are at it), it´s Betty White´s show, hands down.
She is the number one for sure. Good thing is that Hot in Cleveland just got renewed for a third season by TV Land, and we´ll see more Elka Ostrovsky next season.
2- Stana Katic – Kate Beckett – Castle
She has the very big role of being Beckett, the soon to be soulmate of Richard Castle, Nathan Fillion himself, one of the best leading actors any show could hope to get. And she does an excellent job both in the chemistry department as in those action packed scenes.
Stana Katic is one of the most beautiful actresses on television right now, and she is able to deliver a great character week in and week out. She manages to have us rooting for Beckett, and she can get us to laugh on par as what Fillion does (and that´s not easy)
You can also follow Stana Katic on Twitter where she connects on a regular basis with fans and other celebs, earning her even more points.
You can watch Stana Katic on Castle Mondays nights on ABC.
3- Tina Fey – Liz Lemmon – 30 Rock
Sure, she has Alex Baldwin playing Jack Donaghy and that sure helps any sitcom. But she is the everything on that show, and although Tracy Morgan playing Tracy Jordan, Jane Krakowski playing Jenna Maroney, and the rest of the cast makes the case for biggest and best ensemble on TV (Modern Family and Cougar Town are probably the other contenders in sitcoms), she is the bread and butter of 30 Rock and she earned all those awards she has.
You can watch Tina Fey portraying Liz Lemmon on 30 Rock every Thursday at 10 PM on NBC, and you can also check some of the best quotes from 30 rock.
4- Laura Linney – Cathy Jamison – The Big C
How can we laugh at cancer? There´s no way to be doing that, right? Well, unless you have Laura Linney headlining a show about cancer, there´s no way to do that.
She has everything a leading lady has to have on TV: She´s a talented actress, she is believable, she is good looking, she is funny, she knows how and when to cry, she develops chemistry with an impecable as always Oliver Platt, she has an affair and still manages to have us rooting for her. Hands down one of the best shows from last year class. We are waiting anxiously for season two of The Big C already. After all, she did win a Golden Globe for her performance.
5- Edie Falco – Jackie Peyton – Nurse Jackie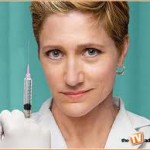 A drug-addicted nurse struggles to find a balance between the demands of her frenetic job at a New York City hospital and an array of personal dramas. She takes Oxicodin, House takes Vicodin. And that´s not the only thing in common. They both headline very good shows, and Edie Falco, as Hugh Laurie does, manage to portray their characters in a unique way that has us all rooting for them even though they are not very likable characters when you look at them.
She´s been great ever since The Sopranos and she keeps it up in Nurse Jackie, a show we are waiting for its second season to start.
6- Julianna Margulies – Alicia Florrick – The Good Wife
Julianna Margulies is at her best in this series. Even better than her ER days, Her husband involves her in the scandal, but the story is hers. She leads the show and she does it in a very compelling fashion.
One can feel what she feels, one can understand her, take side with her, and also realize that her quest for happiness is not at all easy. We root for her, we suffer with her, we get tired with her, we get frustrated with what happens to her.
Good TV!
7- Anna Torv – Olivia Dunham – Fringe
Yes, Fringe got renewed for a season four, and that means that we get to see more of Olivia Dunham, and the best thing about a show with an alternate universe is that we get to see twice as much Anna Torv in Fringe, we see her brunette and we see her blonde, we see her here, we see her there. Olivia Dunham square!
Fringe is a cult show, with soon to have a fourth season, and also, perhaps a show that can reach the 100 episodes threshold that divides regular shows, from network classics. Fringe is nearing, Anna Torv is a big reason why.
8- Courteney Cox – Jules Cobb – Cougar Town
Yes, being among such a great huge cast hurts her chances to be higher in this scale, but she proved she has great comedic chops; and broke the Friends curse, even kickstarting a comeback that Matt Leblanc and Matthew Perry both got too.
She plays a very good role in a very good sitcom that fortunately wandered away from its original concept. If you caught the first couple of episodes, when Cougar Town was actually about Cox being a Cougar, you would have probably left soon. Luckily, the show took a turn for the best and entered the pack: Christa Miller, Busy Philipps, Ian Gomez, Brian Van Holt, Josh Hopkins and Dan Byrd are the stars on a show whose center is Jules. Brilliant show… with a bad title… a very very bad title.
9- Mary Louise Parker – Nancy Botwin – Weeds
Sure it helps her chances being in Showtime. A network that pushes the envelop. She plays a suburban mother who takes good care of her family… and by the way, she´s a weed dealer.
In the same lane as Michael C Hall´s Dexter, she makes a criminal likeable, and that´s something not easy to do.
She has also some other things going on for her as to make the cut into the top ten… she´s beautiful, she´s talented, she can go from the sweet and innocent to the hardass in a matter of seconds. Oh, and those big eyes surely help too.
10- Sarah Shahi – Kate Reed – Fairly Legal
Ok, let´s see. First of all, Sarah Shahi is breathtakingly beautiful.
Second of all, she plays a character very compelling (After all, USA Network is about characters, right?).
Then, add up that she whistles, she yells, she cries, she laughs, and she does all that wholeheartedly.
Fairly Legal is one of the best new legal dramas, and it´s just a matter of time before USA announces the renewal for it. Deservedly so I might add.
In case you´ve missed Fairly Legal, give it a try, you´ll like the show very much.
Still in the conversation
Ok, this is the first part, the top ten leading ladies in TV Scripted. This article is about the top 20, so the next week I´ll post the second part.
Who are still in the mix to get there? You can check out Top 20 leading ladies part two here.
Let´s see:
Julie Benz from No Ordinary Family: Pros: She is Julie Benz, the single most beautiful lady in TV. Cons: No Ordinary Family was not as good as expected.
Jennifer Beals from The Chicago Code: She is a very solid choice to make it. But perhaps we didn´t see all that many layers from her character. Season 2 will show us though.
Emily Deschanel from Bones: She leads a fan favourite, so she´s a shoe in. She could´ve made it to the top ten, but I cannot have a top ten with Sarah Shahi out of it.
Kathy Bates from Harry´s Law: One of the most talented actresses ever, she brought back mature leading ladies as a possibilty to Broadcast TV.
Amy Poehler from Parks and Recreation: She´s funny, she´s talented, she´s great. But she is still a poor man´s Tina Fey. Not top ten material, but a solid backup in the top twenty
Mariska Hargitay from Law & Order SVU: She has everything to be in the top ten. She just missed it
Melissa Mc Carthy from Mike and Molly: When the show started going away from being only about fat jokes we started loving the show. And what´s not to love about Melissa McCarthy?
Maggie Q from Nikita: She´s gorgeous and she kicks ass. It´s just she couldn´t kick enough ass to enter top ten
Brooke Elliott from Drop Dead Diva: She managed to lead a simple idea already done: Heaven´s mistake, into a very nice and enjoyable show. Not top ten material; but surely has its niche in my DVR and my top twenty.
Anna Paquin from True Blood: The accent, the looks, the blood, the vampires.
Kyra Sedgwick from The Closer: She´s the queen of police shows. She deserves to be on the list
Toni Collette from United States of Tara: She´s an ensemble cast by herself.
Melissa Joan Hart from Melissa & Joey: I found myself surprised after watching this show and liking it all season. That´s why we need to watch before we judge.
Both Rizzoli and Isles: They are not Cagney and Lacey, but they are the closest thing.
What did you think about the top ten leading ladies of Scripted TV? How about the ones pending? Who should make the cut?
Let me know in the comments section.
Also, remember to follow me on Twitter for more of these lists.
Comments
comments