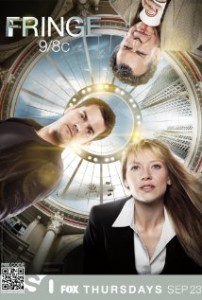 UPDATE: Official announcement released: Fringe renewal order consists on 22 episodes! A Full Season!
We are reviewing all the cancelled shows and renewed shows of 2011.
We posted 11 renewal orders today, starting with Futurama getting two years renewal, and The Hub renewing 10 shows. And one cancellation being FX Lights Out.
But this one is the biggest news of the day. Fringe got renewed for season four by FOX. Fringe will be back. Although an official statement from Fox is yet to be released, Executive Producer Joel Wyman already tweeted (thanks Twitter!) about it.
He said: Fringe was picked up!!!! Thanks Fringedom! You can check Joel Wyman tweet about Fringe renewal for season four here
What is Fringe about? Plot
The FBI teams up with a formerly-institutionalized scientist – who was performing experiments on the fringe of real science – and his son to investigate weird crimes that are seemingly part of a larger pattern, and may be connected with a global company called Massive Dynamics.
The same day twelve renewals posted! Wow, just wow! what a day!
Now it´s time to start hoping for other bubble shows. Hey Fox, now please renew Lie To Me and renew Human Target while you are at it. Thanks in advance.
What do you think about Fringe being renewed for season four by Fox? Are you happy? Let me know in the comments section.
Also, remember to follow me on Twitter for more Cancelled and Renewed as Fringe shows scoop.
Comments
comments