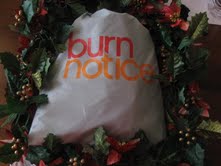 Some time ago I arranged a contest for Burn Notice fans, to win if you could tell me your favourite Burn Notice Character and why. Then, Susan, was very adamant in saying Michael was her favourite, and Sam the close second. She ended up winning the Contest.
Just before Christmas, our very own Santa Claus mission was able to make it to her house and bring her her prize. A nice full gift pack from Burn Notice, including
Season 3 DVD Set
Burn Notice Book: The Getaway
Burn Notice "Chuck Finley T-Shirt
Logo Hat
Susan sent us some photos t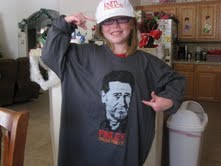 o share her happiness about it.
We can see her lovely daughter, who´s 8 with the most awesome Chuck Finley T-Shirt, and Burn Notice Hat, and as Susan tells me by mail, there´s a hard scheduling conflict going on as to who wears the T-shirt every day.
Season 3 DVD is episodes and extras are probably already in the third or fourth round of watching, too. (I love how my readers are actually rabid hardcore Burn Notice or Psych fans); and I love how USA keeps coming with great content and prizepacks, too.
Here´s th photo of the DVD and the Book "The Giveaway" too.  As they tell me, Susan and her husband already read the book and seems quite good.
Some level of jealousy is raising in me, but still manageable. (Just kidding!).
I would love to get me one of those Burn Notice packs. But they are for one of my readers. This time Susan was the lucky one. Follow me on Twitter or subscribe to this blog to learn about more Contests and Giveaways of several shows. (I have a couple ahead planned for January probably).
In the meantime, you can check out my preview on Fairly Legal premiere, the new USA show coming January 20th, that looks really good, or you can check out what Susan herself said about winning Burn Notice gift pack on her own blog.
As I said, I´m planning much more TV Shows Contest and Giveaways for this 2011, but you can read all of my site plans and resolutions for the new year.
Comments
comments