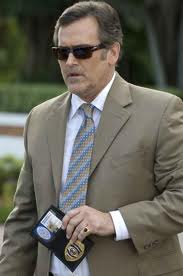 One of the best spy shows ever starts when Michael Westen gets burned. That´s the premise behind Burn Notice. We also get to know that Michael Westen is one of the best, if not the best, spy around.
We get also to know that Fiona Glennane is not only hot as hell, but a fierce imposing lady, portrayed by Gabrielle Anwar, we also get to see Sam Ax, played by Bruce Campbell, as Michael Westen friend.
But how did everything start?
We will know how it continues, because Burn Notice has been already renewed for a couple more seasons, but the question still stands. How did everything started?
Well, that´s what Burn Notice Prequel Movie will answer.
A movie based upon Sam Ax character, and starring Bruce Campbell, and not only that, but also Jeffrey Donovan (who plays Michael Westen) will direct.
The two-hour movie will air on USA Network in Spring 2011.  Burn Notice prequel movie, set in late 2005, begins after a faction of Colombian rebels makes trouble for the locally stationed military platoon, with Lieutenant Commander Sam Axe (Campbell) being sent down to advise. As the mission unfolds, Sam begins to uncover the dark secrets of the area, learning the truth about sacrifice, deception, and ultimately what's worth fighting for.
Burn Notice creator Matt Nix will write and executive produce.  Donovan and Campbell will also serve as executive producers on the Fox Television Studios project alongside Mikkel Bondesen.
Expect more coming on Burn Notice, since the show continues to be one of the hottest shows on television, as the #1 scripted show on basic cable this past summer averaging 3.4 million in P25-54, 3.1 million in P18-49 and 7.3 million total viewers
What do you think about Burn Notice Movie Prequel starring Bruce Campbell? Will you watch it? Let me know in the comments section.
Also, remember to follow me on Twitter for more Burn Notice scoop.
Comments
comments