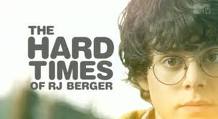 We are still keeping track on all the cancelled shows on 2011 and the renewed shows on 2011. And this time is to bring bad news, following the renewal / cancellation of Breaking Bad, another bad news is awaiting here for another show: MTV cancels Hard times of RJ Berger, and this can´t be thought as a big surprise since the show had dropped to a third of its viewership between freshman season and the current one.
MTV original scripted are going through different paths lately, since paired to the cancellation of Hard Times of RJ Berger, MTV canceled Skins, renewed Teen Wolf, and is on the verge of renewing a strong first season of Awkward.
Four more originals from MTV are setting up on the gates, preparing to premiere soon, The Inbetweeners, Beavis and Butthead, Death Valley and I just want my pants back, all hopeful of getting strong debuts to secure a second season callback, something that Hard Times got, but couldn't transform into a third pickup, hence Hard Times of RJ Berger gets cancelled.
What do you think? Are you sad Hard Times of RJ Berger gets cancelled by MTV? Let me know your thoughts in the comments section.
Also, remember to follow me on Twitter for more cancelled and renewed shows scoop as this cancellation for Hard Times of RJ Berger.
Comments
comments