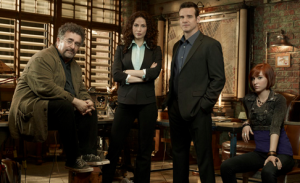 This week we´ve learned that long running shows like Burn Notice are getting to final season, or that Nikita´s renewal is for one final shortened run. And now, what we learn is that Warehouse 13 is also going to have its final season. It´s going to end on its terms and not getting cancelled, mostly because the show deserves to go on a high note, after being the staple for the cabler. Therefore Syfy renews Warehouse 13 for one final thirteen episodes season.
Season five of Warehouse 13 will mark the end for this sci-fi show that has evolved into a classic for the network, and a show that many fans will fondly remember.
Show stars Eddie McClintock, Joanne Kelly, Saul Rubinek, Allison Scagliotti, Aaron Ashmore and CCH Pounder and they are all set to comeback for the final season of Warehouse 13.
We will see thirteen more episodes following the likes of this team in their important business at hand as Warehouse 13 Agents — guarding and protecting an unsuspecting world by "snagging, bagging and tagging" dangerous artifacts.
What do you think? Are you happy Warehouse 13 got renewed? Follow me on Twitter for more scoop on shows getting renewed like Warehouse 13, or check the complete and updatable lists of renewed shows of 2013 and cancelled shows of 2013.
Comments
comments