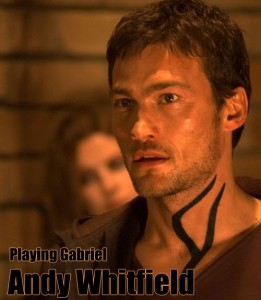 Update: Spartacus Blood and Sand gets renewed by Starz.
Sad Bad News on Spartacus Blood and Sand: Cancer strikes again and Andy Whitfield needs to adress his health. And that can  mean only two things for the future of the show:
Either there´s no future for Spartacus Blood and Sand, or the role needs to be recast.
Executive Producer Steven DeKnight talked with Michael Ausiello, and he was not very confident on a possible return to the show from Andy Whitfield: "The two main options are to close up shop or recast," says DeKnight. "I want to talk to Andy and find out how he feels about the options. That's obviously very important to us.
"We're still absorbing what's happened," adds DeKnight. "I think it's going to be a little while before we reach any conclusions."
DeKnight says his primary concern remains Whitfield, who bowed out of the show's second season after doctors advised him to resume "aggressive treatment" for Non-Hodgkin lymphoma. "He's a trooper," marvels DeKnight. "He has a very positive outlook."
So, what´s the fate for Spartacus Blood and Sand? Is Spartacus Blood and Sand getting cancelled or recast?
Let me know your thoughts in the comments section. (You can also send out good thoughts for Andy Whitfield´s health).
What is Non Hodgkin Lymphoma?
The non-Hodgkin lymphomas (NHLs) are a diverse group of blood cancers that include any kind of lymphoma except Hodgkin's lymphomas. Types of NHL vary significantly in their severity, from indolent to very aggressive.
Lymphomas are types of cancer derived from lymphocytes, a type of white blood cell. Lymphomas are treated by combinations of chemotherapy, monoclonal antibodies, immunotherapy, radiation, and hematopoietic stem cell transplantation.
Non-Hodgkin lymphomas were classified according to the 1982 Working Formulation which recognizes 16 types. The Working Formulation is now considered obsolete, and the classification is commonly used primarily for statistical comparisons with previous decades. The Working Formulation has been superseded twice.
The latest lymphoma classification, the 2001 WHO classification, largely abandoned the "Hodgkins" vs. "all other" grouping system. Instead, it lists 43 different forms of lymphomas in four broad groups.
Comments
comments