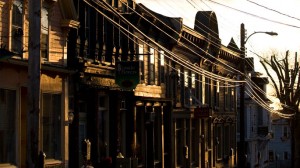 Almost every day there´s something to add to the lists for renewed shows on 2011 and all the cancelled shows on 2011, and today´s been all about the good news.
Syfy renews Haven for season three, and with this decision it is bringing back four originals, albeit Eureka for a final shortened season.
Syfy renewal order on Haven consists in thirteen episodes slated for early 2012 production, and to be aired in the second quarter.
The series has averaged two and a half million viewers, and those solid numbers helped the case in order for Haven to get renewed for third season. (These numbers are when DVR is added, though)
What is Haven ABout? Plot Synopsis
Syfy's one-hour drama series Haven, starring Emily Rose (Jericho, Brothers and Sisters) is based on the novella The Colorado Kid from renowned author Stephen King. The series follows the shrewd and confident FBI agent Audrey Parker (Rose) who has a lost past, and arrives in the small town of Haven, Maine on a routine case. Before long, her natural curiosity lands her in the epicenter of activity in this curious enclave, which turns out to be a longtime refuge for people that are affected by a range of supernatural afflictions.
As the townspeople's dormant abilities begin to express themselves, Audrey helps keep these forces at bay while discovering the many secrets of Haven — including one surrounding her own surprising connections to this extraordinary place.
What do you think? Are you happy Syfy renewed Haven for season three? Will you watch Haven on Syfy? Let me know in the comments section.
Also, remember to follow me on Twitter for more cancelled and renewed as Haven shows scoop.
Comments
comments