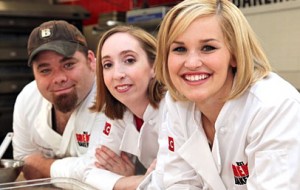 We are reviewing all the cancelled shows and renewed shows of 2011.
And the year came out in its first week already giving way to a couple renewals.
TLC renews Cake Boss: Next Great Baker for a second season, and it should not surprise anybody since it´s a show that´s performing well, around 1,7 million viewers in average.
What is Cake Boss Next Great Baker About?
Anyone who's watched an episode of Cake Boss has dreamt of working alongside the Valastro family as they create the most mouthwatering treats on television. And now, there's a new "help wanted" sign hanging in the window of family's bakery. Starting Dec. 6 at 9/8c, Buddy "Cake Boss" Valastro starts his search for the best rising baker in the business in the all-new 8-week competition elimination series Cake Boss: Next Great Baker.
In the series, Buddy, along with various family members, put 10 talented pastry chefs through the wringer to earn the title of "Next Great Baker." At stake — $50,000 cash and a chance to work side-by-side with Buddy at Carlo's Bakery. Each week, Buddy pushes the contestants' baking and decorating skills to the limit through a series of increasingly difficult challenges that test their business sense and cake artistry. Someone will be sent packing each week until the Next Great Baker is the last one standing.
So, what do you think about Cake Boss Next Great Baker renewal by TLC for season two? Will you watch it? Let me know in the comments section about it.
Also, remember to follow me on Twitter for more Cancelled and renewed shows news such as this renewal for Cake Boss: Next Great Baker by TLC.
Comments
comments