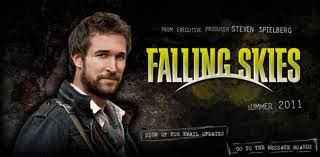 As usual, we are reviewing all the cancelled shows on 2011 and the renewed shows on 2011… And this one I was still on the fence; I thought TNT would wait a bit longer to make it official, but hey, we´ll take it sooner rather than later any day.
TNT renewed Falling Skies for second season, the alien invasion show was as big a ratings hit as V was a miss, so alien invasions are in a tie with one renewed, and one cancelled.
The ratings have been better than expected, making it all the way to an average of 6.4 million viewers (DVR added), and last episode, on a Holiday weekend made it all the way to 4 million viewers.
Falling Skies renewal order for season two consists of 10 episodes, and Michael Wright, head of programming for TNT said in an official statement "We're reaching new audiences with Falling Skies and look forward to seeing where this fascinating and exciting series takes us next.".
What do you think about TNT renewing Falling Skies? Are you happy? Let me know in the comments section.
Also, remember to follow me on Twitter for more Cancelled and renewed shows news such as this renewal for Falling Skies by TNT.
Comments
comments