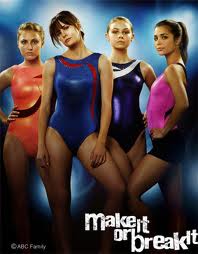 More information to fill the lists for cancelled shows of 2012 and renewed shows of 2012. And this one we saw coming, since the reason for having a new season (as in this one) was to get everybody pumped up for the Olympics. But coming out from a 20 episodes season to an eight episode season, you sure know something´s wrong. ABC Family cancels Make It Or Break It, after the current season gets to an end.
One of my readers told me on a comment that he had seen one of the ads of the show saying, watch series finale on… so I had to learn more about it, and, that was accurate; ABC Family cancelled Make It Or Break It, and is ending its run this season.
The current abbreviated third season chronicles the final leg of the race to the Olympics, with the May 14 finale revealing who of the three girls will make the U.S. team for the games.
On Twitter, show creator Holly Sorenson said: "We are, very sadly, three weeks away from the series finale of MIOBI". Putting the nail in the coffin to the news of ABC Family cancelling Make it or Break it.
What do you think? Are you sad that Make it or Break it got cancelled? Let me know in the comments section.
Also, remember to follow me on Twitter for more scoop about shows getting cancelled as Make it or Break it did.
Comments
comments