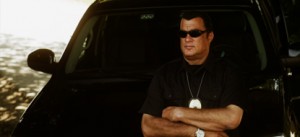 More information to fill the lists for cancelled shows of 2012 and renewed shows of 2012. And this one comes deep from cable, since Reelz Channel renewed Steven Seagal´s True Justice for a second season of the police show. The network has ordered a second season of 13 episodes of Steven Seagal's crime fighting drama series True Justice.
What is True Justice about? Synopsis
On the streets of Seattle, every day is war. An undercover team is chosen to protect the streets, led by Elijah Kane (Steven Seagal). Only the bravest will survive. If you are on the wrong side, they are coming after you.
True Justice is the network's first original scripted drama series and premiered Friday, March 30th, 2012. Since the show's debut, True Justice continues to grow its audience with the premiere of episode three becoming the highestrated program of the year for REELZ posting HH ratings 113% higher than the network's primetime average in Q1 2012. Episode three of True Justice reached more than 1.2 million viewers.
"We are very excited about the strong viewer response to True Justice," said Matthew Singerman, REELZCHANNEL SVP of Programming. "The audience growth in just three episodes demonstrates that this show is striking a chord with our viewers and more people every week are becoming fans, so REELZ is stepping up to take viewers deeper into the electrifying world of Steven Seagal's crime-fighting saga."
"We look forward to continuing our partnership with REELZ," said Phillip B. Goldfine, Executive Producer of True Justice. "We're thrilled to show REELZ viewers the future adventures of Steven Seagal's Elijah Kane."
What do you think? Are you happy that True Justice got renewed for season two? Let me know in the comments section.
Also, remember to follow me on Twitter for more scoop about shows getting renewed as True Justice did.
Comments
comments