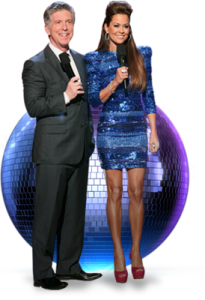 More information to fill the lists for cancelled shows of 2012 and renewed shows of 2012.   And sometimes I have to report about news that everybody knows are coming. This one is a clear example of that: ABC renewed Dancing With The Stars for season fifteen. There was no doubt about it, so while season fourteen is on, the alphabet network picked up the show for another season, and soon enough the list of celebrities dancing will be announced.
Dancing with the Stars is a reality show airing on ABC in the United States, and CTV in Canada in 2011. The show is the American version of the British television series Strictly Come Dancing. Tom Bergeron is the host, with co-hosts Lisa Canning (season one), Samantha Harris (seasons two through nine), and Brooke Burke Charvet (seasons ten onwards).
The contestant pairs consist of a celebrity paired with a professional dancer. Past celebrity contestants include professional and Olympic athletes, supermodels, actors, singers, astronauts, and teen-heartthrobs. Each couple performs predetermined dances and competes against the others for judges' points and audience votes. The couple receiving the lowest combined total of judges' points and audience votes is eliminated each week until only the champion dance pair remains.
What do you think? Are you happy that Dancing With The Stars got renewed? Let me know in the comments section.
Also, remember to follow me on Twitter for more scoop about shows getting renewed as Dancing With The Stars did.
Comments
comments