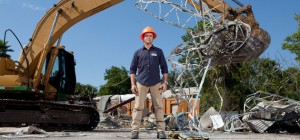 It´s so easy to get lost on all the news coming to the lists of cancelled shows of 2012 and renewed shows of 2012; and this one comes from the across the pond network: BBC America renewed Richard Hammond´s Crash Course for season two.
Hammond faces the challenge of his life this Summer as Crash Course films throughout the USA
Richard Hammond is taken out of his comfort zone to face some of the biggest challenges of his life in the second season of BBC AMERICA's original series Richard Hammond's Crash Course, produced by BBC Worldwide Productions. Season two of Richard Hammond's Crash Course premieres in October 2012.
In season one, viewers saw Hammond traverse the US, joining various job sites to master America's largest and most dangerous vehicles. From learning the positions of a US Army MIA2 Abrams tank at Fort Bliss in Texas, to maneuvering a two-ton wrecking ball in Orlando and The Compactor at the Denver Regional Landfill, Richard Hammond has proven he is a master of machines.
This season, Hammond will immerse himself in uniquely American – often terrifying – vocations. In each episode, he will tackle new, and at times frightening challenges, with less than five days to master each job. Can he conquer his fear of heights and jump from the top of a bridge as a Hollywood stuntman? Will he lose his grip (and suffer a venomous bite) when he takes on the role of a snake handler? From the true grit of a Texas cattle ranch to driving a taxi in New York City, viewers will see Richard Hammond absorb the advice of mentors and attempt to master skills that often take years to learn.
Richard Hammond on the upcoming season: "This year's Crash Course takes me places I really never thought I'd be. Right now, I'm halfway through filming and my butt still hurts from my days in the cowboy saddle – every time anyone raise an arm I think it's a taxi fare stop – even on foot my scalp tingles from being on fire and I will NEVER forget the fear of walking on stage in a New York comedy club. But you know what they say: 'what doesn't kill you… makes great TV.'"
The new season of Richard Hammond's Crash Course continues production through the summer, filming in locations throughout the US. Season two ofRichard Hammond's Crash Course is part ofBBC AMERICA's stable of all-new original programming along with new specials of Chris Hardwick's The Nerdist premiering throughout August, Chef Race: UK vs U.S., debuting Fall 2012, Wild Things with Dominic Monaghan and the channel's first original scripted series COPPER on August 19.
What do you think? Are you happy BBC America renewed Richard Hammond´s Crash Course? Let me know in the comments section.
Also, remember to follow me on Twitter for more shows getting renewed as Richard Hammond´s Crash Course did scoop.
Comments
comments